windwise - Rethinking the Wind Industry

 - a New Generation of Wind Turbine Generators
windwise Portfolio at a Glance
Expertise Report - Lifetime Extension 20+
In order for an Wind Turbine Generator (WTG) not to lose its operating iicence, its stability must be proven. 
An expertise report is the basis for licensing authorities regarding lifetime extensions in order to approve the continued operation of the WTG.
We are a member of BWE and authorised by BWE.
We examine your wind turbine generator in accordance with the test methods laid down in the BWE principles "Principles for carrying out an assessment and examination on the continued operation of onshore wind turbine generators (BPW)", as well as the current DIBt guideline for wind turbine generators and the specifications and standards of DNV GL.
As a result, you will receive an expertise report for the continued operation of your wind turbine generator in accordance with the current state of technology.
Impressions of windwise at WindEnergy2022
2024 - let's look forward to seeing you again...
As an exhibitor and newcomer at WindEnergy2022, the windwise engineers took a lot of positive things away from the trade fair. We had many intensive discussions with new interested parties about our ongoing project "maxcap" and our business field "Lifetime Extention 20+". 
International visitors in particular focused on questions about cooperation opportunities and licensing. Initiated not least by the current energy crisis in Germany and Europe, there was an unusually high level of interest from German/European customers in the topic of "self-supply of electricity" and "project development for one's own wind turbine". 
windwise - Things to know
Cooperation Agreement concluded between windwise and bentec / Kenera
Another milestone has been reached!
windwise has concluded a comprehensive cooperation agreement with the company bentec. With this, the companies agree on a long-term technology partnership which will enable bentec to establish itself as a wind turbine manufacturer. 
bentec going to use the maxcap technology developed by windwise. They will build the maxcap wind turbine generators in various European and Asian countries. 
The windwise engineers are at bentec's side with the required technology support as a cooperation partner.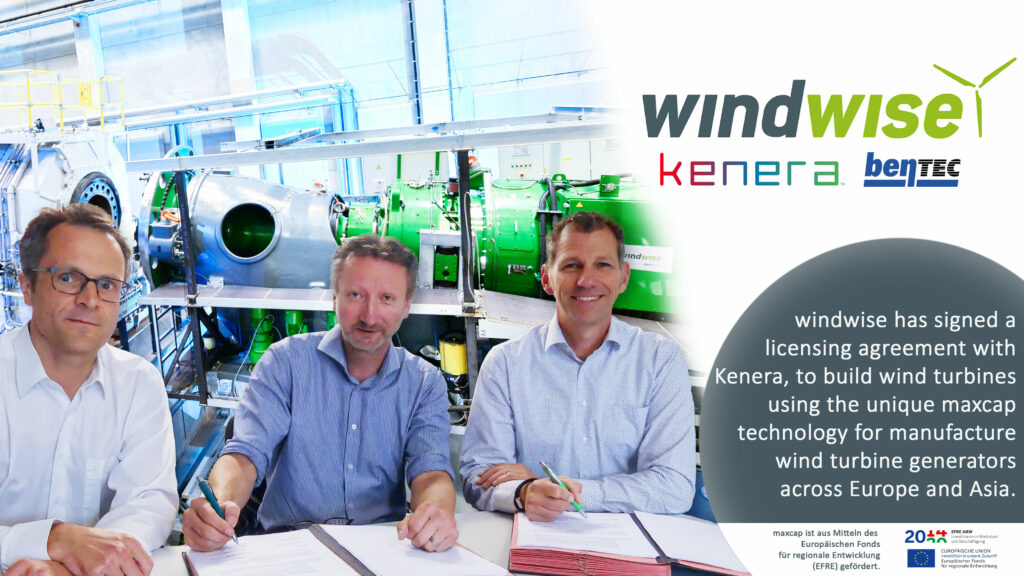 We apprechiate Initiative Application!
"We value your Opinion and welcome your Ideas!"