Current Developments - New Projects, Events, Exchange
Federal Minister for Economic Cooperation and Development
The exchange with Svenja Schulze showed that there is also a German interest in particular in developing countries, e.g. in Africa, with renewable energies, such as the
#windenergy
,an
#autartic
energy supply to be realised.
Markus Becker and Florian Schubert presented the
#licensingmodel
for our base-load optimised
#windturbinegenerator
#maxcap
to Ms Schulze, which achieves many
#full-loadhours
even at locations with little wind.
With this licensing model, it is also possible for developing countries to keep a large part of the value creation in their own country. From component procurement and production to commissioning and maintenance of the wind turbine generator, value creation can take place in the country.
The
#windwise
engineers accompany the
#licensee
intensively and are available as partners for all topics relating to industrialisation.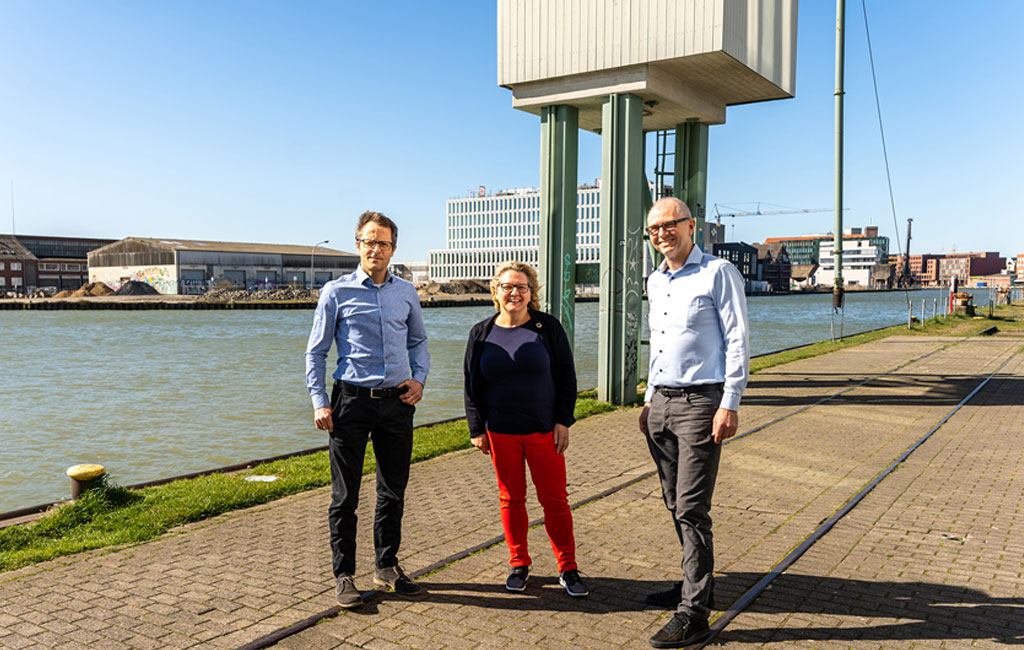 Text from Facebook Post by Svenja Schulze dated 19.04.2022
Expansion of the national and sustainable wind industry in Africa!
Renewable energies are also development energies. They make countries independent of fossil fuels. Development cooperation that expands these energies is therefore also crisis prevention. Svenja Schulze is committed to expanding our climate and development partnerships. This is a contribution to peace and the socio-ecological transformation.
That is why she recently visited windwise in Münster. windwise is currently looking into the possibility of establishing a national and sustainable wind industry in Africa. The aim is to build up production and value creation locally with local forces.
It was an exciting exchange! Many thanks for that!
Cooperation Agreement concluded between windwise and bentec / Kenera
Another milestone has been reached!
windwise has concluded a comprehensive cooperation agreement with the company Bentec. With this, the companies agree on a long-term technology partnership which will enable Bentec to establish itself as a wind turbine generator manufacturer. Bentec will use the maxcap technology developed by windwise and thus build the maxcap turbines in various European and Asian countries. In doing so, the windwise engineers will support Bentec with the necessary technology support as a cooperation partner.
The maxcap technology was developed as part of the climate protection competition of the state of NRW. It is a unique base-load optimised wind turbine generator with a rated output of 2.3MW and a rotor diameter of 141m.
@Benno Sandmann, shareholder and managing director of windwise: "This marks the next milestone for windwise after we have been developing the maxcap technology - a unique base-load optimised wind turbine generator with 2.3MW and 141m rotor diameter - since 2018 as part of the climate protection competition with the support of the state of NRW."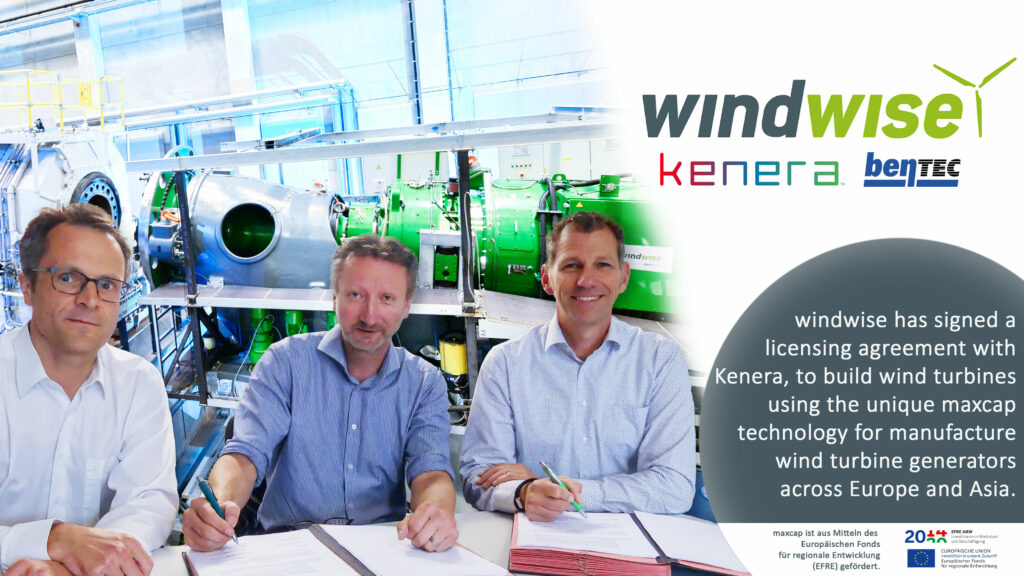 Thorsten Dirks, Managing Director of Bentec and VP Kenera: "Through this cooperation, our group of companies is entering a new business field with windwise as an experienced partner at our side. Our decades of experience as an internationally experienced plant manufacturer and the entire value chain are an asset of the cooperation. In combination with our other products, we can offer our customers holistic innovative energy solutions."
Bentec, based in Bad Bentheim, Germany, is a company that manufactures and supplies reliable, safe and efficient rigs and equipment for oil, gas and geothermal wells around the world. Combining these world-class solutions with comprehensive services ranging from 24/7 on-site support to a sophisticated training offering, Bentec is a true vertically integrated systems provider.
In addition, Bentec is expanding its current offering in both the hydrocarbon and energy conversion markets with the creation of the new Kenera business unit. Bentec recognises the importance of industry-wide ESG goals and sees itself playing an important role in this transition.
The wind turbine generator "maxcap" is a unique base load optimised wind turbine generator with 2.3MW rated power and 141m rotor diameter, which has been optimised for low wind sites. The innovative maxcap 141 achieves a capacity factor IV; 40% at type class IV sites and even>50% capacity factor at type class III - II sites.
maxcap is funded by the European Regional Development Fund (ERDF).


Management System Certificate
The certification according to the new quality management standard DIN EN ISO 9001:2015 is another important milestone in the company history of windwise. We have met the requirements for a quality management system according to ISO 9001:2015 and have been officially certified according to the DIN EN ISO 9001:2015 standard since 14.02.2020.