Current Developments - New Projects, Events, Exchange
Post on social media - Anchor cage installation for maxcap in Lienen
The construction of the prototype "maxcap" in Lienen
The anchor cage for the maxcap tower is completed. It is part of the foundation for the maxcap tower. 
Under the approaching twilight, the maxcap anchor basket shines in the sunset
- almost a little romantic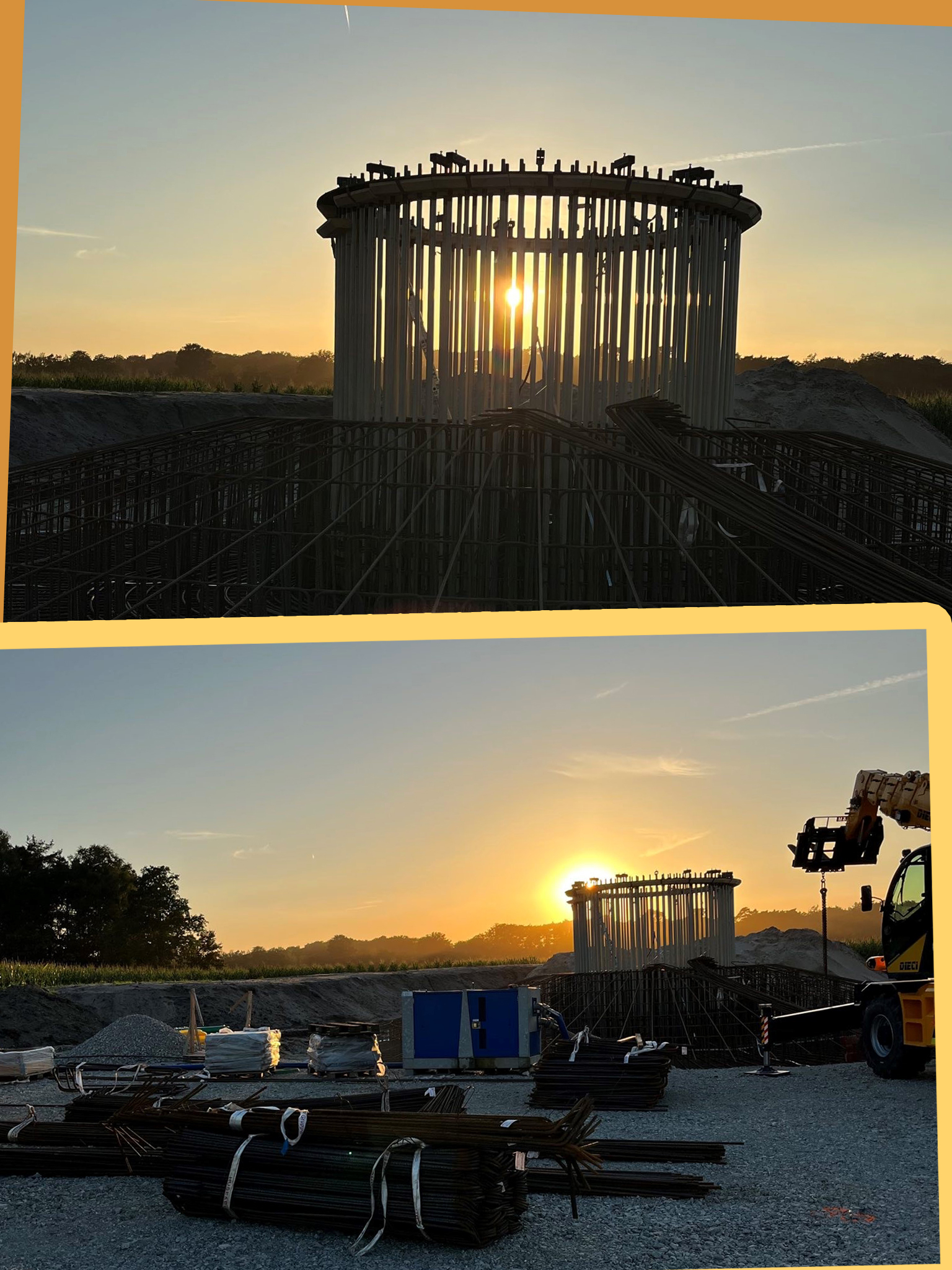 ISO 9001:2015 Management System Certificate
The re-certification was executed by the accreditation body of DNV Business Assurance B.V on January 17 and 18, 2023 at our office in Münster and today, on January 24, 2023, we received the official certificate for the re-certification.
The certificate is valid for the following product or service areas: Development and design of wind turbines; additional services: purchasing, quality assurance and assessment.
The certificate is valid until 2026-02-13.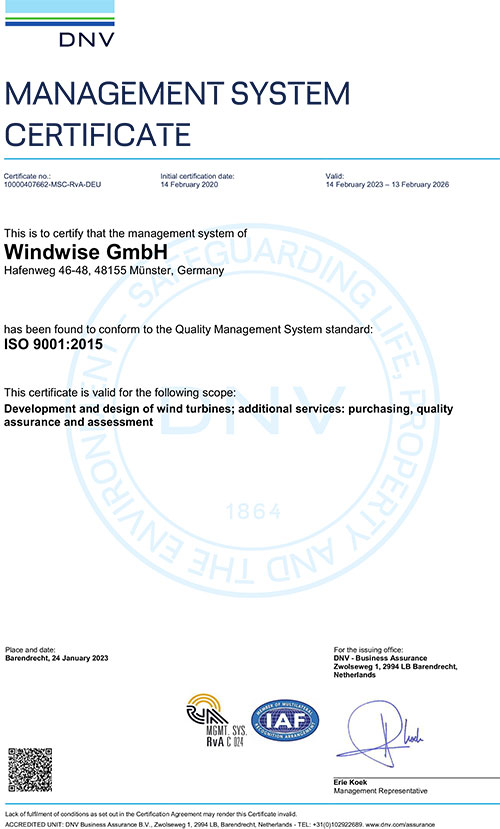 The certification according to the new quality management standard DIN EN ISO 9001:2015 is another important milestone in the company history of windwise. We have met the requirements for a quality management system according to ISO 9001:2015 and have been officially certified according to the DIN EN ISO 9001:2015 standard since 14.02.2020.
Industry newcomer windwise: Less is more
Article on www.eid-aktuell.de - Energy Information Service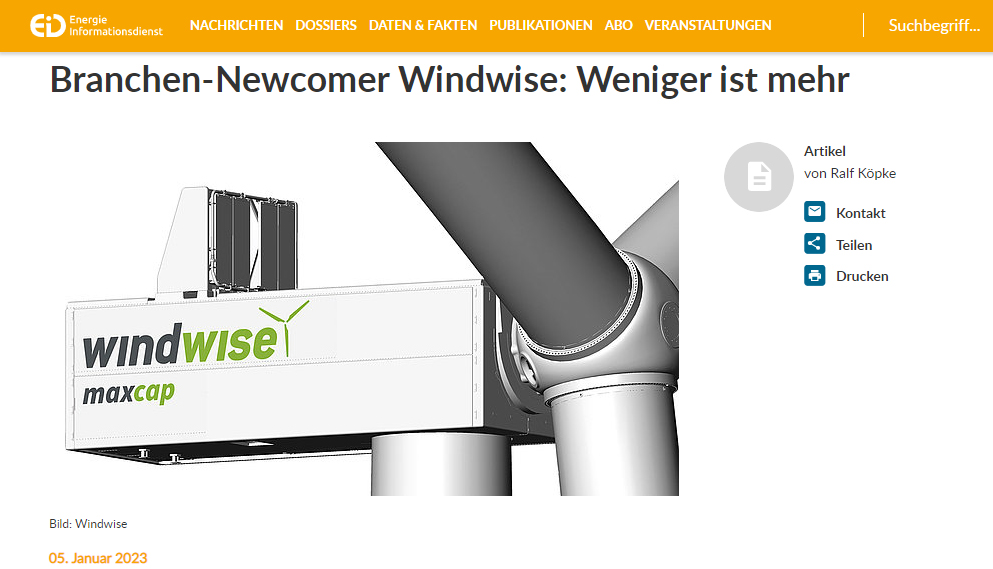 Newcomers to the German wind market have become rare. While there were still around three dozen suppliers in the early 1990s, the business is now spread among more or less half a dozen so-called OEMs. Market consolidation is the euphemism. That's why the situation was nothing new for Markus Becker at the "Wind Energy Days NRW" in Bad Driburg in mid-November: leading wind turbine manufacturers in this country presented their new flagships, with 6 megawatts and more of generator power and a rotor diameter of 175 meters. "Not our league," says the managing director of Windwise GmbH from Münster, "against these giants, we look like dwarfs with our concept."
But this is true: The "Maxcap turbine" developed by the Westphalian engineering firm only has an output of 2.3 MW and a rotor diameter of 141 meters. Windwise is not a classic manufacturer, but a developer forge that tries to bring new concepts to the market via licenses.
windwise deliberately relies on the concept "less power is more". Becker and his nearly two dozen colleagues know what they are doing. All of them have been active in wind technology for more than two decades. Becker himself, a graduate engineer, was in charge of developing the platform for the 1.5 MW machine, the world's best-selling turbine in its size class, for the GE Group. He later managed the development team at the Indo-German wind turbine manufacturer Kenersys, which ceased its activities in Germany in 2014.
"Even back in the Kenersys days, the idea was born for a turbine that didn't always focus on adding more power and taller towers," Becker says. Windwise's philosophy for the "Maxcap turbine" is in the little word "base load optimization." That's because the turbine is designed to make better use of on-site grid capacity; shutdowns by the grid operator should be a rarity.
Managing Director Becker explains the economic advantages: "For us, it is not the strong wind periods that are interesting, when the bulk of the wind turbines running in this country significantly depress electricity prices as a result of tens of millions of kilowatt hours fed into the grid and shutdowns are imminent, but rather lower and medium wind speeds". The bottom line is that the capacity factor of the new turbine, a crucial efficiency parameter in wind technology, is over 40 percent - which is comparable to the level of offshore wind machines.
Deshalb eignet sich die neue Windturbine made in Westfalen nach Worten von Markus Becker neben der Optimierung bestehender Windparks – sofern Flächen und Abstände es zu lassen – vor allem für die Eigenstromerzeugung von mittelständischen Industrie- und Gewerbebetrieben: "Abhängig vom Standort lassen sich mit der Maxcap-Anlage jährlich zwischen 7 und 11 Millionen kWh erzeugen, was schon eine Hausnummer ist."
The development of the prototype was made possible by European funding from the ERDF program and money from the state of North Rhine-Westphalia. The nacelle itself has already been extensively tested in the laboratory of the Center for Windpower Drives at RWTH Aachen University. The Westphalians want to start the test to see whether all their calculations are correct next summer. The prototype will then finally be erected in Lienen between Münster and Osnabrück.
Bentec Drilling & Oilfield Systems from Bad Bentheim, a subsidiary of the Scottish KCA-Deutag Group, which in turn is a major player in the international oil and gas industry, has acquired the first license for the new low-wind turbine. The two companies have since agreed a long-term technology partnership that will enable Bentec to establish itself as a wind turbine manufacturer in Germany and abroad.
Dirk Bäumker, who is responsible for this new business field at Bentec, explains the entry into wind power to EID as follows: "We will follow the path of the energy transition and have expanded our product portfolio by developing a battery storage system and an electrolyzer ourselves. In the future, through the cooperation with Windwise, we will additionally include the wind turbine in our sales portfolio together with our products as a total solution as well as an individual product." In the overall package, the battery storage system and the electrolyzer could be operated "excellently" with the electricity from the maxcap wind turbine.
However, Bäumker is silent on the targeted sales figure. In the sales business, Bentec not only wants to benefit from its worldwide network, but is also setting a meteorological focus: "We will concentrate on regions with low wind conditions, i.e. average annual wind speeds of less than 6.5 meters per second. Such regions include, for example, the Sultanate of Oman or the United Arab Emirates," says Bäumker, hinting at the first sales countries where there is also - surely no coincidence - plenty of oil.
The windwise crew in Münster does not want to leave it at the first license: "We have come to stay with our concept," emphasizes Managing Director Markus Becker confidently.
Article source: www.eid-aktuell.de, Editor: Ralf Köpke
Christmas Greetings from windwise-Team
Promising Prospects for 2023...
The #windwise team wishes you a Merry Christmas and a healthy and successful year 2023. 2023 promises to be an exciting year for #windwise - with promising prospects for the wind industry: we are confident that in 2023 our WTG " #maxcap" will be connected to the grid. As a new type of base-load optimised wind turbine generator, #maxcap will decisively strengthen the existing fleet of wind turbines in Germany, and also worldwide - for many industrial and commercial companies, a further building block for #independent #power supply.
Many have contributed to this success! We would like to thank you for your support and look forward to further good cooperation in 2023. See you soon...
We send you special Christmas Greeting with this video message...
Windenergietage NRW in Bad Driburg
Markus Becker speaks on the topic of "The base-load-optimised low-wind turbine generator"
Which factors determine the electricity/energy costs for the end consumer? How can onshore wind turbines with base-load optimised capability positively influence the energy transition?
Base load-optimised capability reduces the volatility of the electricity output of a wind turbine. With less volatility in electricity generation, the need for storage the need for storage solutions is reduced, grid stability is increased and the production characteristics of electrolysis and drinking water treatment are significantly improved.
Dipl.- Ing. Markus Becker and Managing Director of windwise will give a presentation at the Windenergietage NRW on 18.11.2022 in Bad Driburg and explain the advantages of a base-load optimised low wind turbine.
Markus is looking forward to a dialogue with the audience and will also be available for constructive questions after the event.
windwise consults on the topic of lifetime extention 20+
An dem Gemeinschhaftsstand von windwise GmbH und dem Ingenieurbüro Wrotech aus Münster gaben unsere Kollegen Christian Beckmann und Markus Becker, als Experten für die Themen Weiterbetrieb 20+ und Gutachtenerstellung, Antworten insbesondere zur Diskussion "Weiterbetrieb 20+ versus Repowering"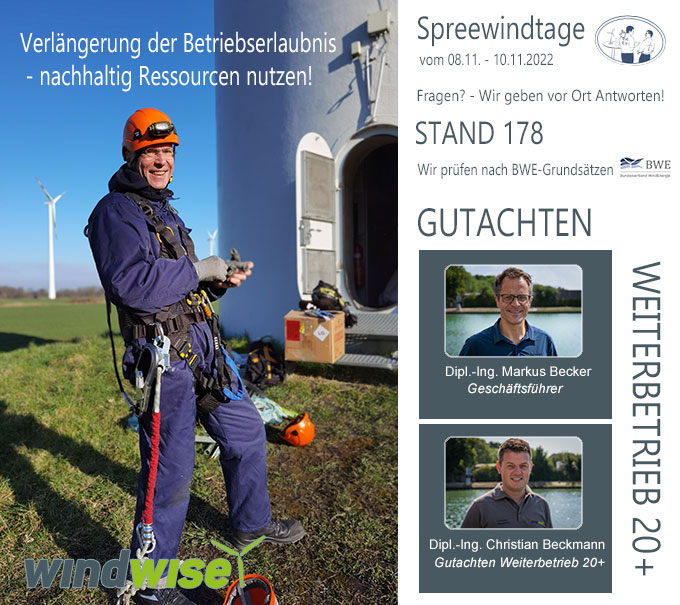 Impressions from the joint exhibition stand in Listow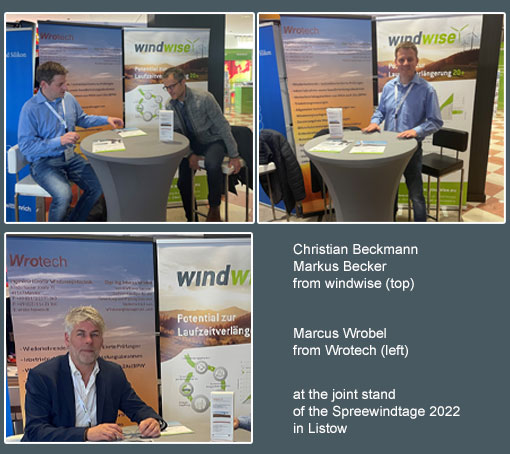 Federal Minister for Economic Cooperation and Development
The exchange with Svenja Schulze showed that there is also a German interest in particular in developing countries, e.g. in Africa, with renewable energies, such as the
#windenergy
,an
#autartic
energy supply to be realised.
Markus Becker and Florian Schubert presented the
#licensingmodel
for our base-load optimised
#windturbinegenerator
#maxcap
to Ms Schulze, which achieves many
#full-loadhours
even at locations with little wind.
With this licensing model, it is also possible for developing countries to keep a large part of the value creation in their own country. From component procurement and production to commissioning and maintenance of the wind turbine generator, value creation can take place in the country.
The
#windwise
engineers accompany the
#licensee
intensively and are available as partners for all topics relating to industrialisation.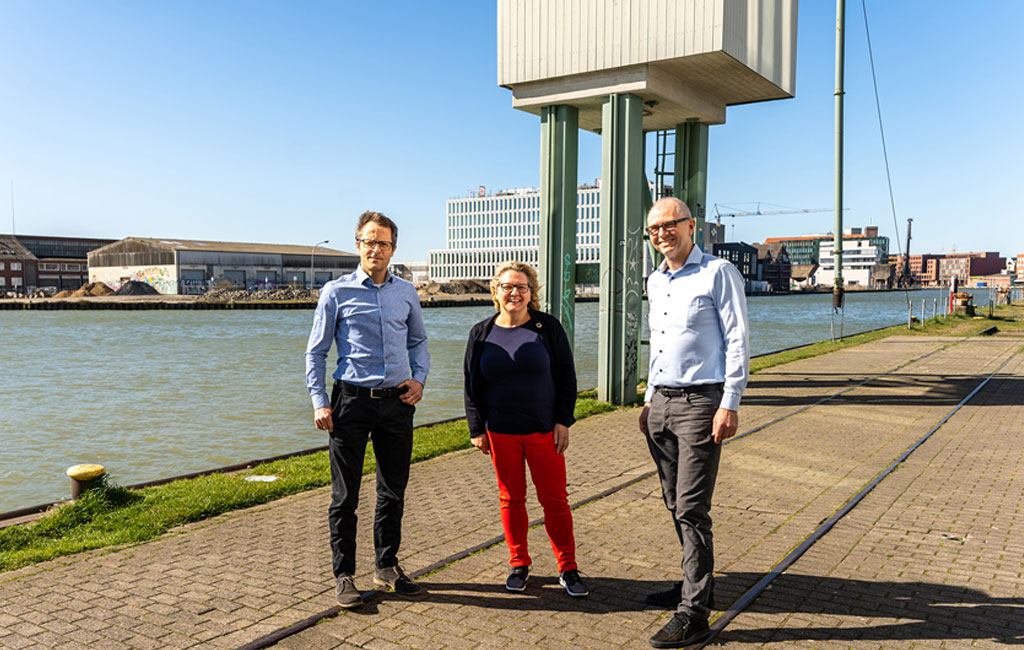 Text from Facebook Post by Svenja Schulze dated 19.04.2022
Expansion of the national and sustainable wind industry in Africa!
Renewable energies are also development energies. They make countries independent of fossil fuels. Development cooperation that expands these energies is therefore also crisis prevention. Svenja Schulze is committed to expanding our climate and development partnerships. This is a contribution to peace and the socio-ecological transformation.
That is why she recently visited windwise in Münster. windwise is currently looking into the possibility of establishing a national and sustainable wind industry in Africa. The aim is to build up production and value creation locally with local forces.
It was an exciting exchange! Many thanks for that!
Cooperation Agreement concluded between windwise and bentec / Kenera
Another milestone has been reached!
windwise has concluded a comprehensive cooperation agreement with the company Bentec. With this, the companies agree on a long-term technology partnership which will enable Bentec to establish itself as a wind turbine generator manufacturer. Bentec will use the maxcap technology developed by windwise and thus build the maxcap turbines in various European and Asian countries. In doing so, the windwise engineers will support Bentec with the necessary technology support as a cooperation partner.
The maxcap technology was developed as part of the climate protection competition of the state of NRW. It is a unique base-load optimised wind turbine generator with a rated output of 2.3MW and a rotor diameter of 141m.
@Benno Sandmann, shareholder and managing director of windwise: "This marks the next milestone for windwise after we have been developing the maxcap technology - a unique base-load optimised wind turbine generator with 2.3MW and 141m rotor diameter - since 2018 as part of the climate protection competition with the support of the state of NRW."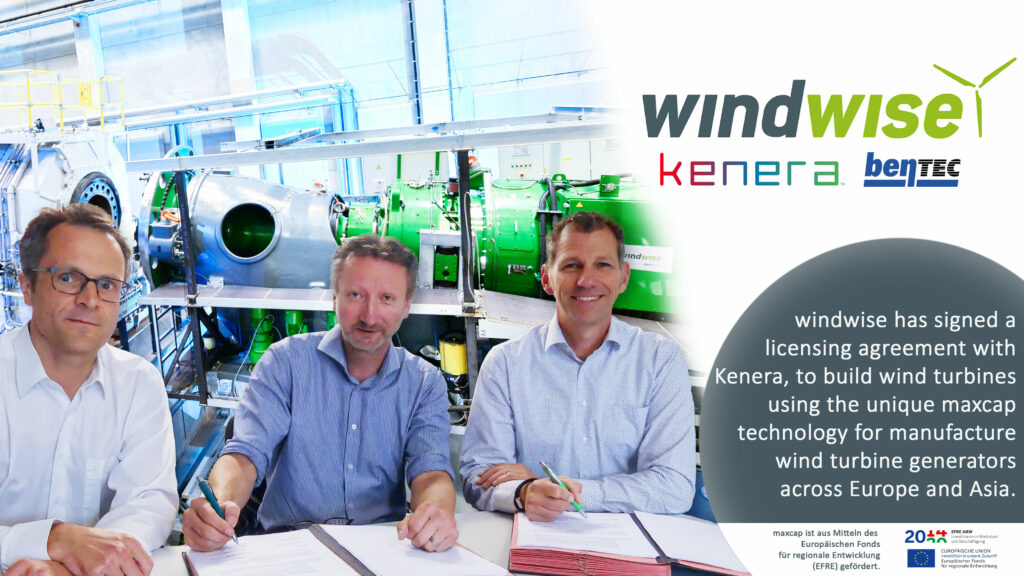 Thorsten Dirks, Managing Director of Bentec and VP Kenera: "Through this cooperation, our group of companies is entering a new business field with windwise as an experienced partner at our side. Our decades of experience as an internationally experienced plant manufacturer and the entire value chain are an asset of the cooperation. In combination with our other products, we can offer our customers holistic innovative energy solutions."
Bentec, based in Bad Bentheim, Germany, is a company that manufactures and supplies reliable, safe and efficient rigs and equipment for oil, gas and geothermal wells around the world. Combining these world-class solutions with comprehensive services ranging from 24/7 on-site support to a sophisticated training offering, Bentec is a true vertically integrated systems provider.
In addition, Bentec is expanding its current offering in both the hydrocarbon and energy conversion markets with the creation of the new Kenera business unit. Bentec recognises the importance of industry-wide ESG goals and sees itself playing an important role in this transition.
The wind turbine generator "maxcap" is a unique base load optimised wind turbine generator with 2.3MW rated power and 141m rotor diameter, which has been optimised for low wind sites. The innovative maxcap 141 achieves a capacity factor IV; 40% at type class IV sites and even>50% capacity factor at type class III - II sites.
maxcap is funded by the European Regional Development Fund (ERDF).


Management System Certificate
The certification according to the new quality management standard DIN EN ISO 9001:2015 is another important milestone in the company history of windwise. We have met the requirements for a quality management system according to ISO 9001:2015 and have been officially certified according to the DIN EN ISO 9001:2015 standard since 14.02.2020.